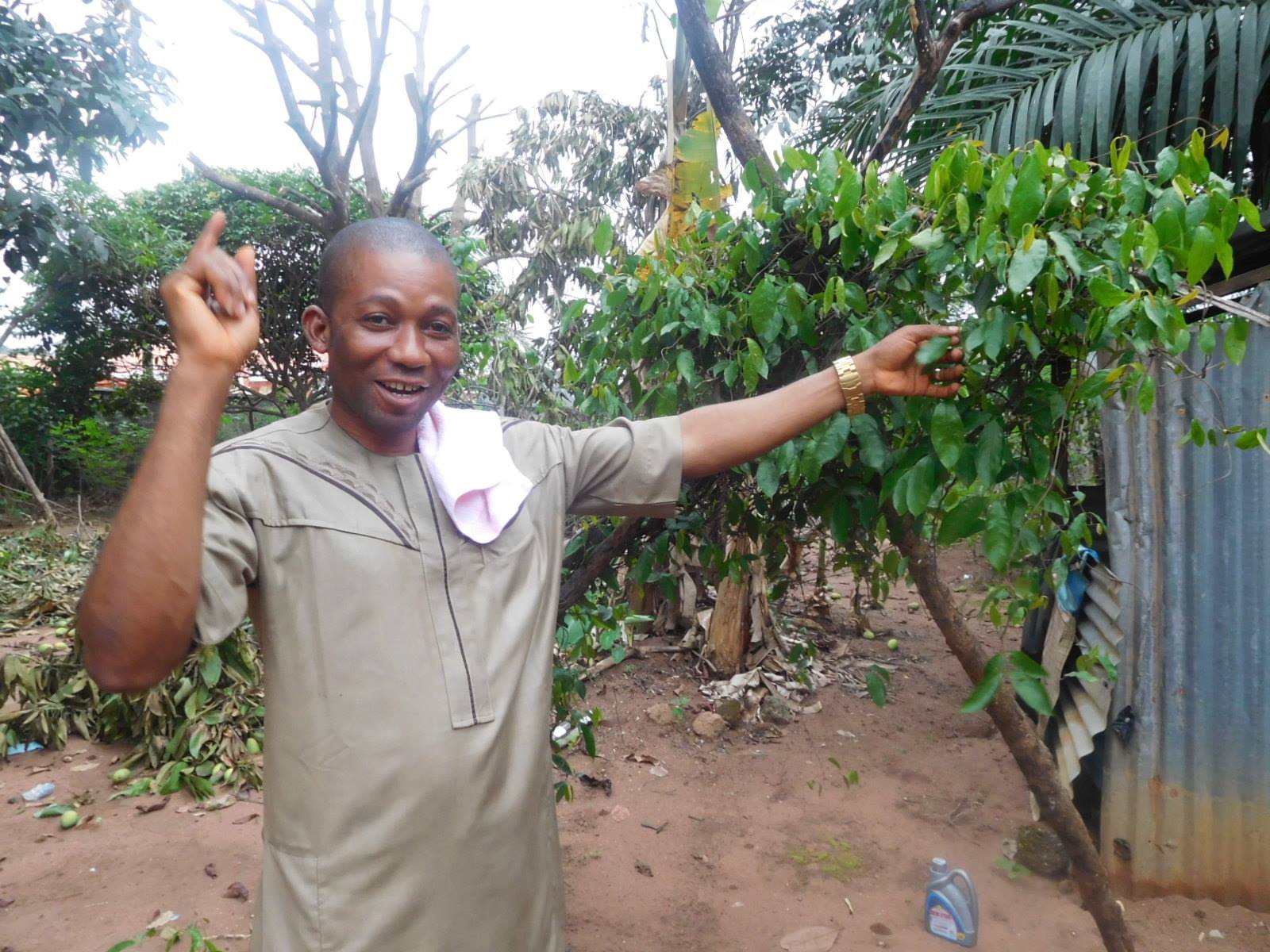 What do you do, when you come from a food producing area that is becoming rapidly urbanized and you are losing your farm lands? The Food Bridge's new Eastern regional Coordinator in Nigeria, Mr Uchechi Opararji-Denis faced such a challenge but started a project ( Youths initiative for agriculture) which is encouraging youths in his community to go back to farming and also preserve some of their farm lands for posterity. Their community is located near a state capital and owns vast lands thus many in the community now view land sales instead of agriculture as their main means of livelihood. It took some determination from this young man, to change back from land prospecting to farming. Although in the middle of an urban area, in his home garden he now grows different plants, crops; experiments with growing plants which previously were only found in forests, because the forests in his community are being lost to housing projects.
On why he chose farming as a means of youth empowerment, Mr Oparaji-Denis stated that "before you do anything you must have a passion for it and I come from an agricultural community. My people, their work is farming nothing else, we had vast lands but many have now been sold. So I thought what can I do for the people so they can have a means of livelihood from their lands but not by selling the land". To enable him achieve the aims of the project, Mr Uche engaged the traditional rulers and women in his community. Convincing them regarding the benefits and relevance of the project, created the necessary support needed to work with youths in his community.
Furthermore, Mr Uche lamented the lack of support for local farmers especially from the government. According to him " government is very selective in helping farmers but you wouldn't blame them sometimes. Government may release money to head men, party leaders and these people will decide to give the money to their friends or family who know nothing about agriculture. Moreover, when help is given to farmers all their attention is on poultry and not crops. Those of us working on growing crops, rely on personal efforts".
To enable him achieve the set aims of the youth initiative for agriculture, The Food Bridge provided some capacity building and networking opportunity with similar initiatives in the region. However as Uche stated "access to land is not our problem even though we have sold a lot, we still have hectares and hectares of land, the problem is how to use it better. Farming has gone beyond hoe and knives, so we need resources. We are traditionally farmers but still need assistance to enable us perform better. If we are doing well, convincing the youth to join us will not be a problem".
If you are interested in collaborating or supporting this initiative, you can contact The Food Bridge on This email address is being protected from spambots. You need JavaScript enabled to view it., 0032 489 182 780 or Mr Oparaji-Denis 00234 7014190408.
The Helping Hand Project
In collaboration with Kwabre Ne Sekyere Belgium,Mfantesman vzw,Voice of Women International, Kente FM and other African organizations, we are organizing "The Helping Hand project",is an action started in 2016, aimed at feeding the homeless in the Brussels area. We are in need of volunteers to help with the cooking, packing and distribution of food to the homeless and needy. We are also still looking for sponsors for this project. We do not accept funds but prefer sponsorship in the form of donations of desired food items, food packaging materials. if you are interested in giving a helping hand, contact us on This email address is being protected from spambots. You need JavaScript enabled to view it.