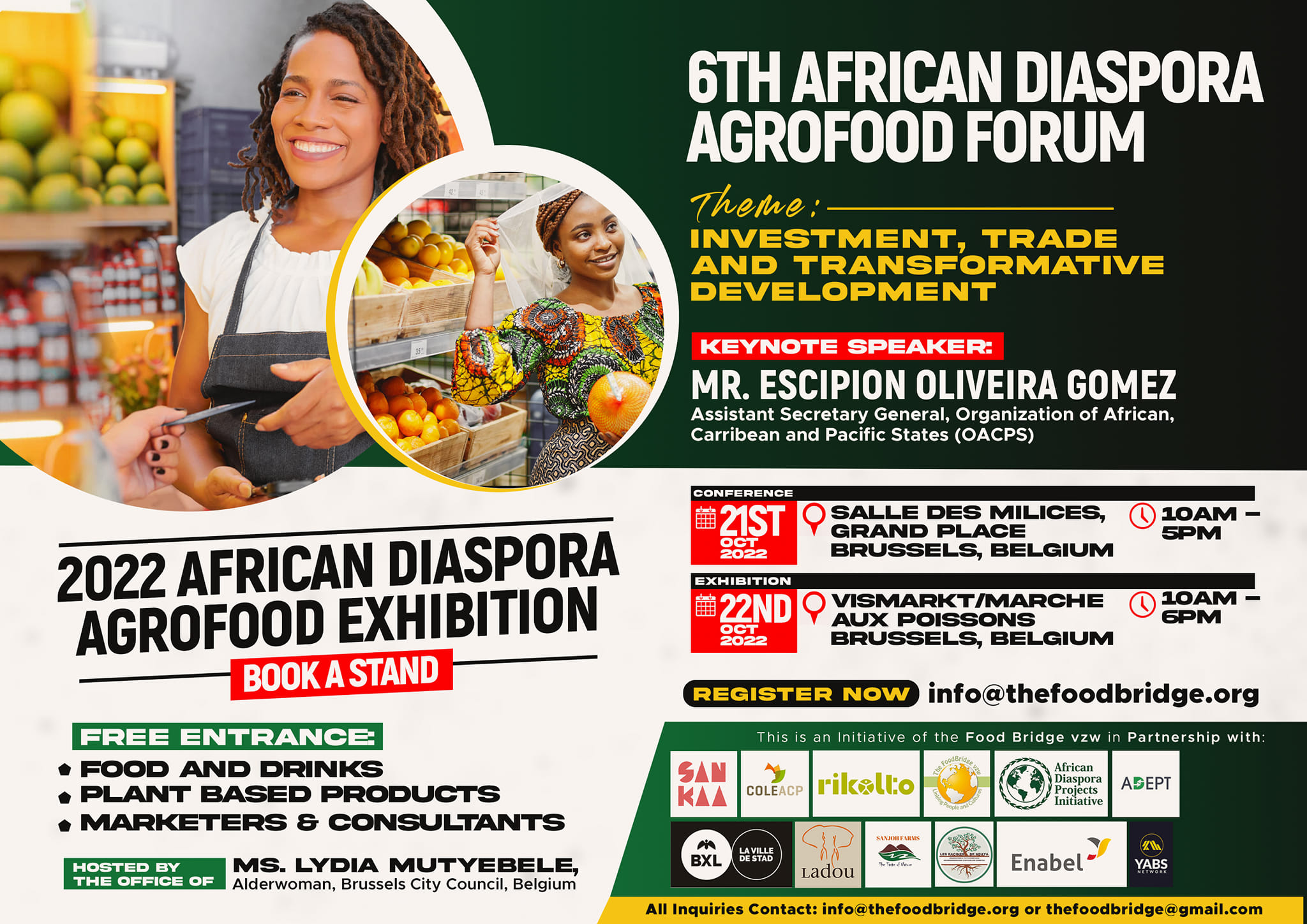 The Food Bridge vzw and its partners will be organizining the 6th edition of the African Diaspora Agrofood Forum. The theme for this 2022 edition is Investment, Trade and Transformative Development.
Diaspora entrepreneurs are unique achievers. They are unique in the sense that they have no dedicated framework for support from Africa or the international resources managers such as global agencies, financial institutions and even NGOs . Yet, most of them have been relying on their own resources and skills to build up entrepreneurial projects.
With the world still struggling to ameliorate the impact of the covid pandemic on the global economy, Africa needs the input of all stakeholders to help the continent boolster it's already fragile economy and strengthen the socio-economic development of its people especially in rural areas. Thus having a huge population of youths, the envisioned growth of Africa's economy needs to be fast tracked with the implementation of policies that give more support to entrepreneurs and the private sector.
African Diaspora entrepreneurs investment of personal funds in the private sector, beyond the usual remittances is a development that needs more recognition and support. Favorable policies by governments, accessibility of funds from financial institutions and ability to trade in favourable conditions in international markets, are a necessity to encourage the continuous input of African diaspora expertise and resouces for economic projectsin the continent.
The resilience of the African entrepreneurs in the face of the global covid challenge, highlights their dedication and potentials as key development agents in Africa; thus there is the need to focus on creating with them robust frameworks and links for sustainable economic growth in the continent and also their countries of residence.
Our aim for the African Diaspora Agrofood Forum has remained consistent; to highlight the potentials of African diaspora entrepreneurs and provide a platform for beneficial exchanges and discussions that can help expand their role in the sector.
For this 6th edition, we will have speakers and experts from governments, agencies, institutions and organizations that can help facilitate the necessary access to investments, trade which will in turn be a key tool in transformative development in Africa.
For more information, sponsorship or partnership
Contact: This email address is being protected from spambots. You need JavaScript enabled to view it.
This email address is being protected from spambots. You need JavaScript enabled to view it.
The Helping Hand Project
In collaboration with Kwabre Ne Sekyere Belgium,Mfantesman vzw,Voice of Women International, Kente FM and other African organizations, we are organizing "The Helping Hand project",is an action started in 2016, aimed at feeding the homeless in the Brussels area. We are in need of volunteers to help with the cooking, packing and distribution of food to the homeless and needy. We are also still looking for sponsors for this project. We do not accept funds but prefer sponsorship in the form of donations of desired food items, food packaging materials. if you are interested in giving a helping hand, contact us on This email address is being protected from spambots. You need JavaScript enabled to view it.