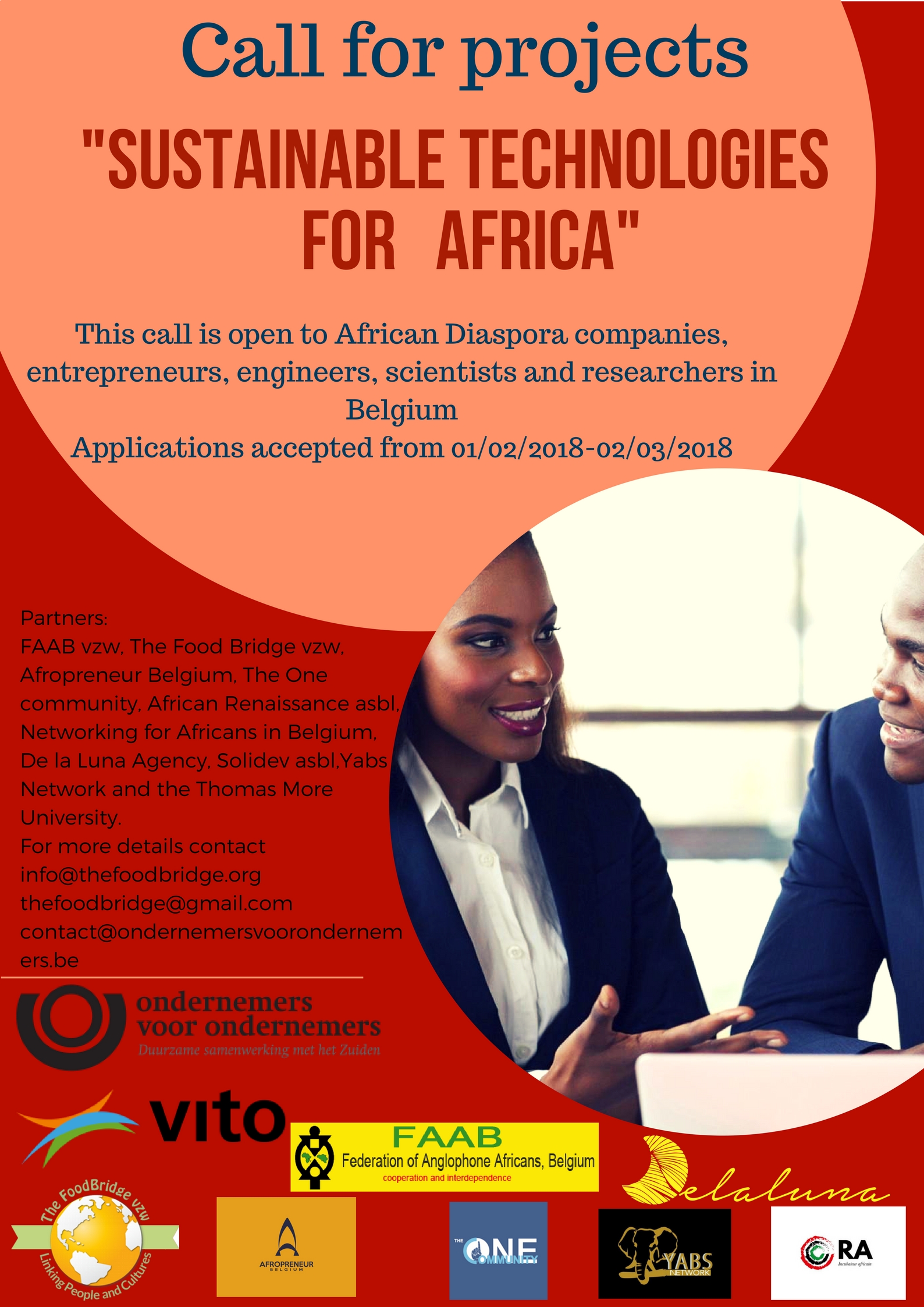 Entrepreneurs for Entrepreneurs vzw(Ondernemers voor ondernemers), The African Diaspora Projects Initiative and the Vlaamse Instelling voor Technologisch Onderzoek (VITO) is launching a new call for projects with the theme "Sustainable Technologies for Africa". Applications can be submitted from the 1st of February to the 2nd of March 2018.
This initiative is with the support of our partners from the African Diaspora in Belgium including FAAB vzw, The Food Bridge vzw, Afropreneur Belgium, The One community, African Renaissance asbl, Networking for Africans in Belgium, De la Luna Agency, The One Community, Solidev asbl, Yabs Network and the Thomas More University.
Companies, aspiring entrepreneurs, engineers and scientists from the African diaspora with great ideas for a sustainable economy can participate in this "Sustainable Technologies for Africa" call for project. With the SusTech4Africa competition, VITO, the African Diaspora Projects Initiative and Entrepreneurs for Entrepreneurs will accelerate the founding and growth of cleantech industry in African Countries, by connecting local African and Belgian cleantech companies. This call for project is open to all sectors, however you need to state clearly how your project fits the theme "Sustainable Technologies for Africa".
In order to help polish their ideas for a cleaner planet to perfection, selected teams will participate in a boot camp and series of coaching sessions, where they will be coached by experts from VITO, experienced entrepreneurs from Entrepreneurs for Entrepreneurs, supported by students from the Thomas More University. At the end, the participants will compete in a pitch contest attended by investors, government officials, African diplomats, development experts and other members of the public. The top-3 winners will get a social loan and in-kind support to realize their dream. The applications can be sent in English, Dutch or French, however the coaching and boot camp will be in English.
Supporting social entrepreneurship with sustainable projects is important for the development of Africa. Thus initiatives such as this, provide an enabling environment for Africans Diasporans to work for the development of Africa
About VITO Tech Transfer
The VITO Tech Transfer Office builds cleantech ventures and transfers VITO's technology for a more sustainable, circular economy. We connect VITO's expertise and intellectual property to aspiring entrepreneurs and managers, to start and grow businesses that address the societal challenges of tomorrow. Their quest is to identify, nurture, guide and close opportunities with capacity to profitable growth and worldwide impact. Among the recent VITO TTO startups are: Laser Cladding Venture (LCV), Unifly, Activate for Health, Apemco, Bluefoot Membrane, iFlux, Dronegrid.
A

bout Entrepreneurs for Entrepreneurs
Entrepreneurs create dynamism in society and foster progress. Entrepreneurs for Entrepreneurs is a group of socially engaged entrepreneurs in Belgium, who are convinced that economic activity is the key to sustainable development in the South. They propose to support businesspeople in developing countries through direct investments and exchange of expertise. Entrepreneurs for Entrepreneurs has access to more than 130 Belgian companies that are keen to commit their resources to reliable and sustainable projects in the South with a focus on social entrepreneurship.
About African Diaspora Projects Initiative
African Diaspora Projects Initiative was started by The Food Bridge vzw, on the firm belief that members of the African Diaspora have a role to play in the development of the continent. This initiative is aimed at linking members of the African Diaspora to the resources they need to start entrepreneurial projects in Africa.
On the 1st of June 2017 with the support of Entrepreneurs for Entrepreneurs, 10 entrepreneurs out of the 23 applications received, pitched their projects to a team of experts. Four of these entrepreneurs with projects destined for different African countries were chosen for further support and eventually investment for their projects. One of the projects in the agro-food sector is finalizing the paperwork with investors while another water project entrepreneur, having gone through additional boot camp and coaching, is still receiving more support from Entrepreneurs for Entrepreneurs to insure the project gets all the support it needs to succeed.
For further inquiries about this upcoming call for projects you can contact
This email address is being protected from spambots. You need JavaScript enabled to view it.
This email address is being protected from spambots. You need JavaScript enabled to view it.m
contact@ondernemersvoorondernemers
Upcoming Events
There are no up-coming events
The Helping Hand Project
In collaboration with Kwabre Ne Sekyere Belgium,Mfantesman vzw,Voice of Women International, Kente FM and other African organizations, we are organizing "The Helping Hand project",is an action started in 2016, aimed at feeding the homeless in the Brussels area. We are in need of volunteers to help with the cooking, packing and distribution of food to the homeless and needy. We are also still looking for sponsors for this project. We do not accept funds but prefer sponsorship in the form of donations of desired food items, food packaging materials. if you are interested in giving a helping hand, contact us on This email address is being protected from spambots. You need JavaScript enabled to view it.